NYCTA V Line
by Phantom909, ipaclansite, coneykidw8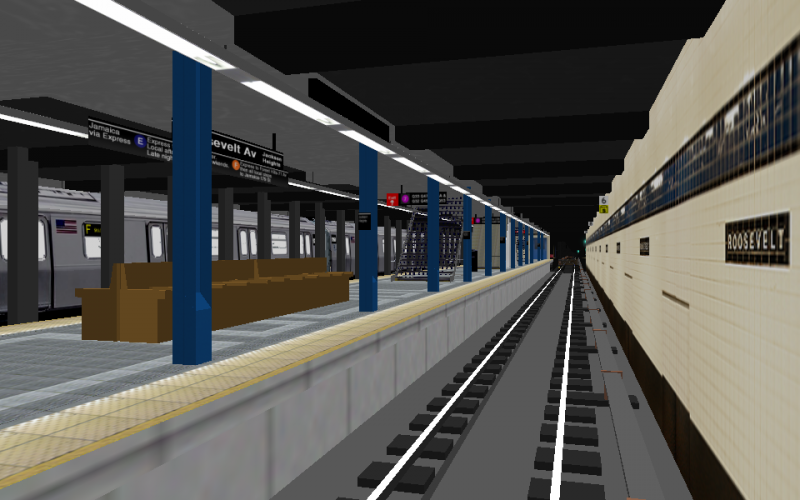 Description
---
New York City Transit Authority IND V Line from 2nd Ave Manhattan to 71st-Continental Aves Forest Hills,Queens
Thank You for downloading our depiction of this non-fictional NYC Subway Line. The V Line is a local route that starts in Lower Manhattan and runs local North under 6th Ave till 53rd Street than turns east. It runs under the East River into Long Island City Queens. The V continues running loacl mostly along Broadway and Queens Blvd to Forest Hills..
The V Line requires these 4 files:
NB-NYCT-V.EXE This is the route folder.
NYCTCommon.EXE This is one object file
V Line.EXE This is a second object file
NYCT-V.EXE This is the sound file
If you have the old V Line folder from 2 years ago, allow the new one to overwrite the original.
Run all 4 EXE programs. If you have BVE2 installed in your C\Program Files Directory, they will automatically download correctlly. If your BVE is somewhere else on your Computer, use the Browse Button to find it.
You will also need error`s R46 (R46-2) available on www.bvestation.com
I have also included an updated R1 Holiday Route. If you have the one that was released in 2007, it will not work anymore. Use the new one. That route requires the R1 trainset also available on www.bvestation.com
I would like to thank the following people:
Mr. Mackoy for his tremendous contribution to the train-sim world giving us BVE and all other Route Builders throughout the world for their contributions to the BVE world.
The BVEStation team:
Kevin for his textures on this route, and his detailing the Queens section of the route Bryant for his announcements and his detailing of the Manhattan section of this route Jaime, Billy, Tristen, Ray, LJ, Jay, Bradley, Jazmine, and Marvin with their loaning of objects and technical advice on the route Kevin, Billy, and Josh for keeping our website the best BVE site around And everyone else who gave me encouragement to put all the contributions together
I would also like to make a couple of dedications:
To all the innocent victims of 9/11/01, WE WILL NEVER FORGET
To all the military personnel from the USA and all countries that are fighting the war against terrorism wherever it is found , GOD BLESS YOU, WE PRAY FOR YOU
And to all the workers at NYC MTA for their tireless work in moving over 7 million people a day to keep the "City that never sleeps" working..
Thank You again for downloading this route. Enjoy!
Joe ONeil