R32 Pre GOH
by Mudwrestle, Dj Hammers, Mr Railfan & straphanger9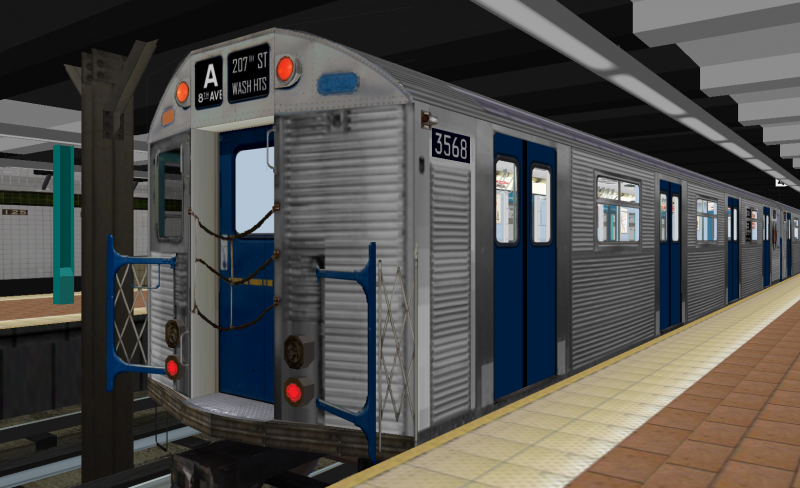 Description
---
From Wikipedia:
The R32 is a New York City Subway car model built in 1964-65 by the Budd Company in Philadelphia for the IND/BMT B Division. These cars were the first mass-produced stainless steel cars built for the New York City Subway.
They are the oldest cars in passenger service in New York City today at 49 years old (the longest for an R-type car), well past the specified service life of 35 years and, according to railfan James Greller, often cited for their superior durability and craftsmanship. They are also the only cars currently in service that were built for the New York City Transit Authority prior to its merger with the Metropolitan Transportation Authority in 1968. Five other car types built after them have been mostly or completely retired. However, many R32s have been retired as well.
From 1988 to 1990, as part of the NYCTA General Overhaul (GOH) program, the R32 cars were rebuilt by Morrison Knudsen at its shops in Hornell, New York. Ten R32 cars, which have since been retired, were rebuilt by General Electric in its Buffalo, New York facility. After rebuilding, they received Luminator flipdot signs that displayed the service letter only, since the air conditioning evaporators mounted on the interior car ends made it rather difficult to change the front route and destination signs. During the rebuilding process, the route and destination mylar rollsigns located above the storm doors were removed and replaced with flipdot electronic route signs. The distinctive marker lights were also removed.
Updated April 14th, 2014 with Post-SMS R32!