NYCTA G Line (Southbound)
by ipaclansite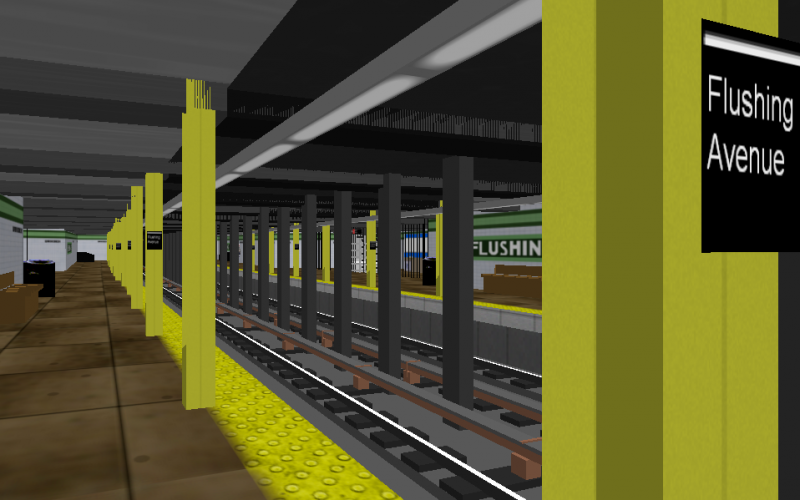 Description
---
NYCT-(G) Crosstown Local
by ipaclansite
Version: v1.3
Release date: December 31, 2008
v1.3 Update January 23, 2011
Designed for BVE 2 written in RW converted to CSV
Contact: ipaclansite@yahoo.com
This is the Brooklyn Bound G Line from Court Square to Smith-9th Street Brooklyn. After being in development for such a long time, and so much eye candy going around, its about time everyone gets their hands on it. With development starting in early in September 2007, the G has been in development for more than a year, utilizing advanced techniques from digitally remastered textures, and higher polygon objects. Putting this together, creating a newer more fresher view on the NYCT routes, and doing something that was never done before.
As its real life counterpart, the G is the so called "step-child" of the MTA, is often neglected and is now permanently cut to Court Square during late nights and weekends. The BVE version is arguably the most attractive one we have to date, pushing the limits of our current technology, and inspiring future routes.
As so, I am proud to present to you the Brooklyn Bound G. When running the route, be warned, the weekday G runs 4 car sets, however they stop at the [6] stop marker. So stop at the [6] or the [S]
Dependencies:
error46146's R46 trainset
The (A) Route
The (B) and (D) Route
-------------------------------
Whats new in this update?
-------------------------------
This update includes some minor fixes. All route files have been updated to the CSV format. A BVE 4/OpenBVE version includes brightness commands, and a OpenBVE version which includes rainy/stormy weather! The route files are clearly labeled on which format they are. All CSV route files have signals in place now compared to the last version. Several route file fixes have also been applied, so there should be no errors in OpenBVE, and the Smith-9th middle wire has its transparency fixed. We've also done away with the Clickteam installer, since it gives false positives, not that its bad, but its inconvient for our users.Enjoy the updates!
-------------------------------
Installation:
-------------------------------
Running this installer, should install into your BVE directory.
-------------------------------
Known Issues
-------------------------------
1. This is a high quality route, and you may experience lag.
-------------------------------
Copyrights/Terms of Use/Rights/Credits:
-------------------------------
Majority of the objects were written and created by Joe Oneil (Phantom909) Announcements were created by me (ipaclansite/kevin) and converted to work for BVE by Arcángel(aka Canarsie160/143) Express Announcements by error46146 Textures drawn by ipaclansite Free-Loops.com Special thanks to error46146 for his photos and textures and [CG Textures] - The worlds largest free texture site
This route falls under the Creative Commons License, if you are to re-use this work, you must attribute us, and share your work with the same license. http://creativecommons.org/licenses/by-nc-sa/3.0/
Unless you made a major change to the route, or used work from this route, you may not host or repackage this route elsewhere. If you got this route at another site you must report it by emailing me or reporting it on the BVEStation.com forums.
Some work in this route however is still copyrighted. If you open the OpenBVE Exclusive version of the CSV route file you will see which files are open source, otherwise the rest are copyright, and you'll need to ask for permission to use them.
Questions or comments? Go ahead and post it in our forums at BVEStation.com
Joe Oneil (Phantom909) (ONeilPhantom909@aol.com) mackoy (Creator of BVE!)
And thanks to all our beta testers!
Thank you for downloading this route! Enjoy!