MNRR M8 (Full)
by Fan Railer & Manuel Mejias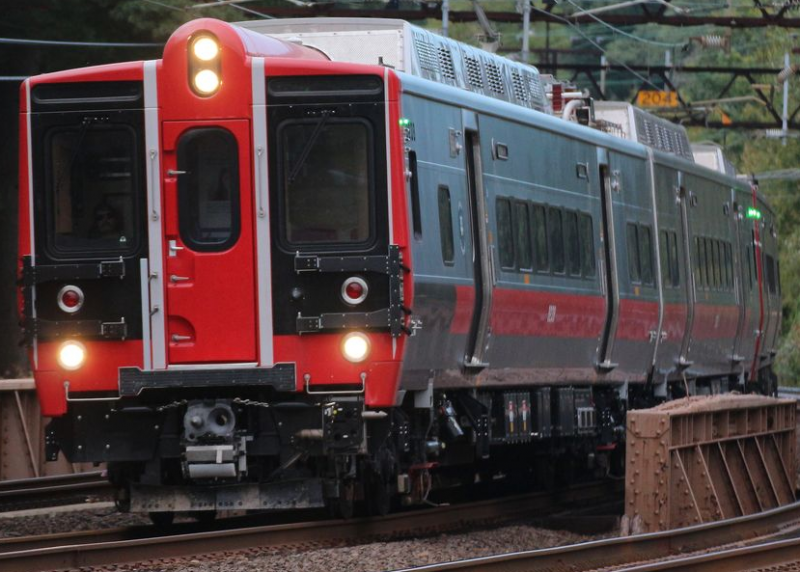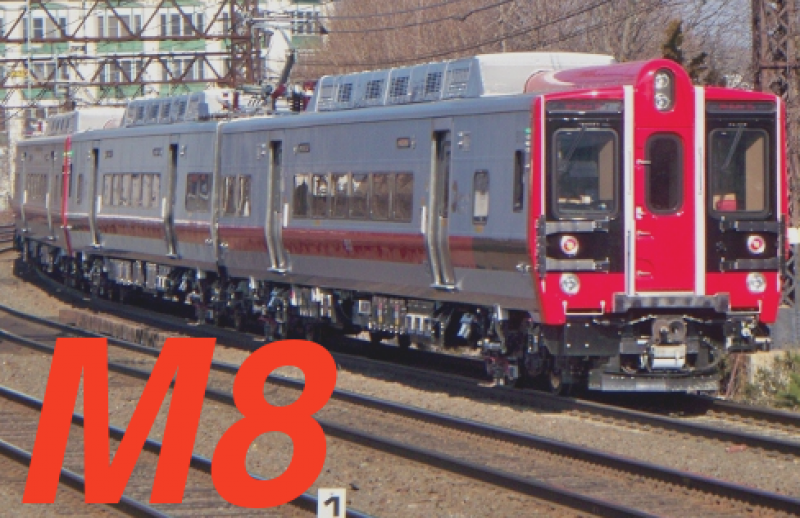 Description
---
Metro-North Railroad Kawasaki M8 EMU V1.0 Packs for OpenBVE
Full Version contains all 176 different train configurations.
Lite Version contains only 21 different train configurations.
This train is highly detailed and advanced. Keep reading for full details.
The M8 electric multiple unit was built in the between the 2000s and early 2010s for the Metro-North Commuter Railroad. Seating layout is not 100% accurate as of this release.
These packs come with both the married pair and the single (cabless) trailer car. Every possible consist configuration for trains 2 to 12 cars in length (realistic and fictional) is included in this the "Full" pack, while the "Lite" pack contains only the 21 realistic consist configurations (for those people who are short on hard drive space).
In addition, hours of coding were put in to animating the 3D engineers cab. Note that the cabs train status and diagnostic displays are semi-animated/semi-functional, as is the AC - DC mode selector switch.
Train acceleration physics also vary based on the ratio of motorized cars to trailer cars in the consist. As logic dictates, a 100% motorized train will hold maximum starting acceleration and reach top speed faster than a train that is only 80% or 60% motorized. In addition, the tractive effort meter on the cab display is dynamic in nature; a 100% motorized train requires less tractive effort per car to achieve rated acceleration than a train that is less than 100% motorized.
Finally, note the placement of the cab doors throughout the consist; the end cars will have their cab doors closed, while the middle cars have them open.
The cab signalling on version 1.0 is not yet functional, but as soon as a route is coded that can make use of the cab signalling system, a plugin will be drafted and this pack will be updated to version 2.0.
Version 2.0 will also include animated destination signage, a detailed lavatory, and updated door sounds and seating layout.
Credits list:
-Sounds: Fan Railer (Mike Kam)[general sound programmer] & William McMorris [high quality announcement chime, buzzer sound, & combined throttle/brake controller "click"]
-Engineers Cab (3D): Manuel Alejandro Mejias Palacios
-Exterior model: Manuel Alejandro Mejias Palacios
-Physics: Fan Railer (Mike Kam)
-Project coordinator & BETA tester: Fan Railer (Mike Kam)
-Invaluable reference material (for physics): Gregory Grice
-File compression: Max Diamond (Dj Hammers)
IMPORTANT: Please do not redistribute this train pack. This pack is only to be made available via sanctioned sites, ie, BVEstation & Fan Railers Mediafire page.
Technical information:
Power system: 750 VDC Third Rail ; 12.5 kV 60 Hz AC / 25 kV 60 Hz AC Catenary
Axles arrangement: BoBo
Service weight (empty motor; average): 144,291 lbs
Service weight (empty trailer; average): 110,230 lbs
Starting acceleration (MIN PWR; P1): 0.5 mph/s
Starting acceleration (MAX PWR; P6): 2.0 mph/s
Continuous acceleration (dependent on motor:trailer ratio): 2.0 mph/s @ 28 - 35 mph ; 0.39 - 0.47856 mph/s @ 100 mph
Minimum reduction brake rate (MIN BK; B1): 0.75 mph/s
Full service brake rate (MAX BK; B4): 3.0 mph/s
Emergency brake rate (EMER): 3.355 mph/s
Propulsion system: Mitsubishi Electric - Sojitz (Melco) AC propulsion
Traction motor rating: 270 hp
Rated power (per car): 1080 hp
Service speed: 80 mph
Maximum design speed: 100 mph
Gauge: 4 ft 8.5 in
Length between couplers: 85 ft 0 in
Vehicle Width: 10 ft 6 in
Rail to Roof Height: 12 ft 11.5 in to ~ 14 ft
Distance Between Truck Centers: 59 ft 6 in
Truck Wheel Base: 8 ft 6 in
Wheel Diameter (New): 36 in
Essential Operating Tips:
For openBVE purposes, this train has 6 power points, one for each major cab signal limit. Each point will increase acceleration proportionally.
P1 - 15 mph (24 km/h); 0.5 mph/s
P2 - 30 mph (32 km/h)
P3 - 45 mph (72 km/h)
P4 - 60 mph (96 km/h)
P5 - 80 mph (128 km/h); 2.0 mph/s
P6 - 100 mph (160 km/h); 2.0 mph/s
For openBVE purposes, this train has 4 service brake points, each increasing the brake rate by increments of 0.75 mph/s.
B1 - B3 are dynamic/regenerative brake only.
B4 blends in friction brakes to achieve full service brake rate of 3.0 mph/s.
IMPORTANT; How to operate the pantograph (switch between AC-DC and vice versa):
Hit "3" to turn ATS off and lower pantograph (AC-DC), hit "2" to turn ATS on and raise pantograph (DC-AC). It is recommended that you only make the AC-DC switch while moving. Do not make the DC-AC switch while moving, as activating the ATS from "off state" will immediately apply emergency brakes; thus, only raise the pantograph when the train is stopped. Hopefully, a plugin for V2.0 will remove this requirement.
Download (Full; 18.27 mb compressed, 2.2 gb unzipped): http://www.mediafire.com/download/816kymd5aqkkccx/MNCR+Kawasaki+M8+EMU+Pack+V1.0+Full.7z
Download (Lite; 12.7 mb compressed, 260 mb unzipped): http://www.mediafire.com/download/bvrxh90r8vnqucu/MNCR+Kawasaki+M8+EMU+Pack+V1.0+Lite.7z
Thanks for downloading and enjoy =)
Since no real LIRR / MNCR routes exist yet, here is a list of recommended routes to run this train on:
1. http://www.trainsimstuff.org/network-west-midlands/nwm-downloads
2. http://www.mediafire.com/download/9r6tfx0zx8xxikm/Maastricht+Route+Pack.rar
3. http://www.mediafire.com/download/27112b6vjxh1iss/MAV+120a+Route+Expansion+Pack.rar
4. http://www.celtictrainsim.com/routesdl.html (Ballyfeckin & Waterville Route)
5. http://www.bvestation.com/downloadinfo.php?id=62
6. http://sites.google.com/site/velarobve/downloads