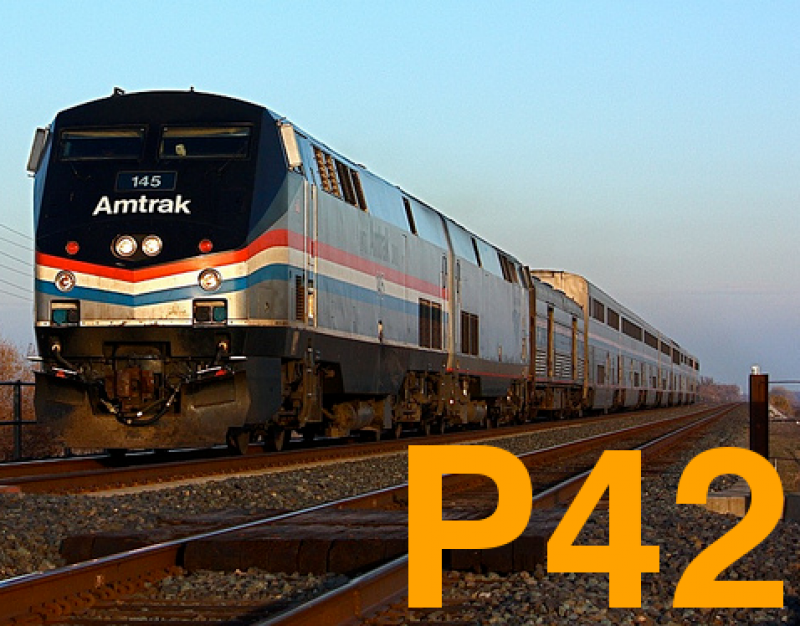 Description
---
From Wikipedia: The P42DC is Amtrak's main locomotive. The successor to the P40DC, this unit was first produced in 1997.
It has an engine output of 4,250 horsepower (3,170 kW) at 1047 rpm, or 3,550 horsepower (2,650 kW) when running in HEP mode (900 rpm) with a 0 kW HEP load. Traction horsepower in HEP mode decreases to a bare minimum of 2,525 horsepower (1,880 kW) when providing the full 800 kW HEP load to the train. The P42 has a maximum speed of 110 mph (177 km/h), while Via Rail Canada only permits these units to travel at a maximum speed of 100 mph (161 km/h). Tractive effort is rated at 281 kN (63,200 lbf) of starting effort and 162 kN (36,400 lbf) of continuous effort at 38 mph (61.2 km/h).
This unit is used primarily on most of Amtrak's long haul and higher speed rail service outside the Northeast Corridor as well as a service with speeds up to 160 km/h (99 mph) on Via Rail's Quebec City-Windsor rail corridor when it replaced the LRC locomotives in 2001.